Skittles' Tasteful Response
---
Every brand both dreams of it and dreads it. It's the moment the company you represent goes viral and either 'breaks the Internet' or just breaks down. Two weeks ago, Skittles was put in this very situation as a result of Donald Trump Junior's tweet comparing Skittles to Syrian refugees.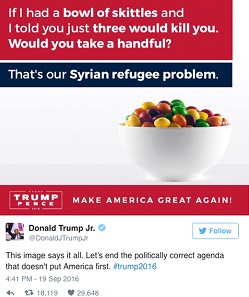 It was a Monday and 4:41 P.M. Enter stage right the on-duty social media coordinator for Skittles. Within a matter of hours, Mars' colourful candy had become the top trending topic on Twitter. All eyes were on Skittles – my own included. What would they do, how long would it take to put together a response, get it approved internally and post it error-free under the pressure. Tweets of support flooded in as PR and social media professionals (and just generally nice people) empathized with the on-duty Skittle social media person, but the clock was ticking…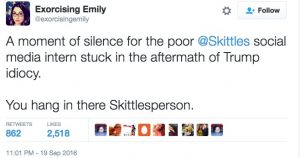 Skittles had to make a decision – and quickly.
Skittles said what?
Instead of capitalizing on the situation, Skittles smartly stepped back from the situation. Hours later, the brand's parent company responded from their global handle with: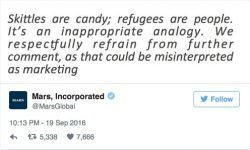 The response was short, simple, but perfect. It showed that Skittles was totally on top of taking charge of unexpected issues without turning them into reputational crises. While it can be tempting for brands to take full advantage from awkward viral situations, thinking of the bigger picture and how the story will play out is fundamental – especially when it involves politics, religion, disasters or emotive topics.
So what can brands and communicators takeaway from this?
"Keep responses short, sweet and to the point", Brian Bell manager brand PR, branded entertainment, and talent at Dr Pepper Snapple Group.
Don't overthink and complicate responses
Avoid getting sucked into providing further commentary once you've released your statement
Don't self-promote or appear to capitalize on sensitive situations
Emotion. Mars' response demonstrated that they were human and not just a faceless corporate brand
Nice work Mars and social media Skittleperson!