Changing Habits Through Leadership
---
In this final post of our leadership series, we outline what Art of Leadership speaker Charles Duhigg discussed in relation to the power of habit. In particular, he explored how leadership can improve and change habits.
Duhigg informed the room that, according to recent research he'd seen, 45% of what we do is habit. He explained the habit loop, emphasizing the importance of reward in forming habits.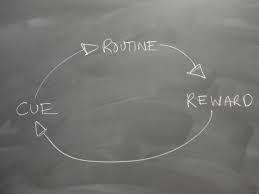 What I found interesting was his take on unplanned organizational habits. He illustrated this point by talking about how we operate in the workplace daily, often without even realizing what we're doing and how we're behaving. For example, we operate in silos or we stick to our own job descriptions and won't interfere with others. He highlighted this by talking about the Kings Cross fire in London which killed 31 people and injured 100. From what I understood, Duhigg was suggesting that, if London Underground employees hadn't stuck to their job descriptions and silos, the fire may have been prevented from spreading.
Obviously there are always a lot of factors to consider in these kinds of situations but, talking us through the steps and habits of how the employees responded, certainly confirmed his theory. Ultimately, unplanned organizational habits prevented anyone from taking crucial action.
So how do we change habits? Again, it's a big topic and one that I cannot do justice to in a short blog post. But I would add:
Will power is key
Recognize that habits spill into all areas of life; identify those you truly want to change
Identify what provides you with an opportunity for change
Find habits that deliver emotional rewards
Hopefully this leadership series has given you some thoughts, tips and tricks to apply to your workplace environment, teams and individual development. The key to success and growth is keeping things simple and realistic. So be sure to identify what you believe will work for you and focus on a selection of these points. And don't be afraid to have check-ins with yourself and others. Documenting progress, getting feedback, and being open to change will ultimately allow you to become a more successful leader.
No related posts