An Insight into 2016 Marketing Predictions
---
This year's BCAMA annual marketing agency panel did not disappoint. Expert speakers from top agencies provided a strong sense of what's to come this year and created a healthy debate around what's really going to be some of the key drivers. There was a ton of information relayed to the hundreds of branding and communications professionals in the audience. Here are few of the highlights we took away with us.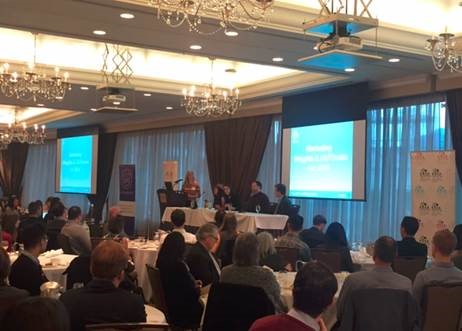 Speaker #1: Andrew McCarthy – President, Tribal Worldwide Canada
The theme of Andrew's presentation was around using content to connect with consumers. Research has recently shown that 71% of consumers who have blocked ads have said they'd consider whitelist advertising if the content was decent. Basically, people hate bad advertising.
So, how do you increase the shareability of your content?
Relatability – your content must be relevant
Have a point of view – this will help streamline content and ensure it's consistent and interesting
Findability – search rankings are key when it comes to content dissemination
Mobility – make sure your content is where your audience is hanging out
Likeability – it's an obvious one but your audience has to want to genuinely share your content
Snack Time, the milk producers of Western Canada's cartoon series, was shared as a successful campaign where all the above was put in motion.
Speaker #2 Kelly Stephenson – Director of Strategy, Creature Agency, Seattle
Kelly's talk centred around the prediction that there will be a rebalance between data and "creative bravery". Kelly acknowledged the importance of data but cautioned that often marketers can get so caught up in data that the ability to connect with consumers is lost. Her argument around brands not becoming too obsessed with data was effectively summarised when she said, "data looks backwards; insights look forwards." Marketers need to consider data and use this to create consumer insights in order to produce relevant and creative narratives that will increase the value of the relationship between brand and consumer.
An example used to highlight this argument was REI and its decision to shut up shop for the day on Black Friday and encourage its followers to #optoutside. REI chose to prioritize its shared values with its Millennial audience, putting a short-term need (a lot of revenue on Black Friday) behind the longer-term relationship. It was a smart move as the retailer generated millions of media impressions and a significant amount of content and engagement around #optoutside.
Speaker #3 April Yao – Senior Account Manager, 6S Marketing & Sheng Li Digital
April got up on stage and immediately said she had to disagree with some of Kelly's points as 6S still uses and responds to data to ensure successful client campaigns that are closely tracked and clearly show ROI. April primarily presented on two topics: retargeting (also known as remarketing) and marketing to the Chinese population. April discussed the virtues of retargeting and dynamic remarketing (getting specific products that someone has already looked at on your brand website in front of the user when they are viewing another site). She said that, if you follow the cost per click (CPC) model, you'll see the value quickly.
On the Chinese front, April said that approx. 20% of the Vancouver population is Chinese and encouraged the marketers in the room not to forget this growing market which often has high spending power. She talked about some of the equivalent Chinese social sites such as Youku (video), Baidu (search), and Weibo (think Twitter and micro-blogging).
April gave the example of Cirque du Soleil and how they were selling tickets fast in the English-speaking Vancouver community but not in the Chinese community. Through a Weibo contest, creating a Chinese landing page and a retargeting campaign, Cirque saw a significant increase in its ticket sales. Her final point on this community was that ethnic markets shouldn't be forgotten but they also require their own distinct strategy.
Speaker #4 Dan Scherk – Partner & Creative Director, Traction Creative
Finally, Dan Scherk took to the stage to discuss the importance of brands adopting a user-centric approach in their marketing campaigns. He talked about how social marketing in particular has proven how brands cannot be organization-centric and that they have to prioritize user needs. Using his psychology background, he delved into social marketing behavioural theories and touched upon reasoned action approach, a benchmark for understanding and predicting human behaviour. Dan emphasised the need for marketers to tap into consumers' beliefs, showing how that would impact attitudes which would in turn formulate intentions and lead onto certain behaviours.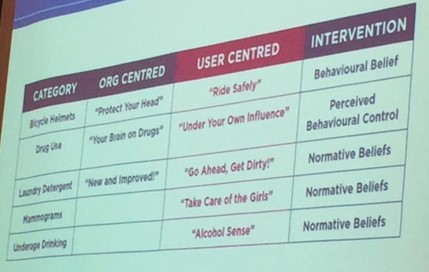 The last case study of the morning was an interesting one: it was the "Dumb Ways to Die" campaign that was launched by Metro in Melbourne, Victoria. The cartoon campaign series was focused on reducing the number of accidents on its trains. Based on this, it was extremely successful and resulted in a 20% reduction in accidents. The campaign won top industry awards and was hailed a great success by many. But it was viewed as a failure by others. Why? In the real world, the true issue was suicide. So, a successful user-centred approach would have been around suicide prevention. Instead, the brand took an organizational approach and focused on an issue that was not the real problem.
Finally, the panel moderator, Claire Booth of Lux Insights, said that, while #FOMO (fear of missing out) was a real thing last year, this year, it's apparently going to be all about #FOLO (fear of living offline).